One SCA Rule I'm Not Following, Maybe
Recently I got hooked on crochet. I know it's not considered period appropriate in the SCA. Instead I should knit which was done before 1600. But I like crochet because I suck at knitting.
In crochet you use a hook – not uncontrollable sticks – to create fiber goods from yarn or thread. And if you're innovative you could use rags, plastic, twine, or wire. Anything that's a flexible strand.
But is it period? Was crochet known to be done before 1600 AD?
Crochet History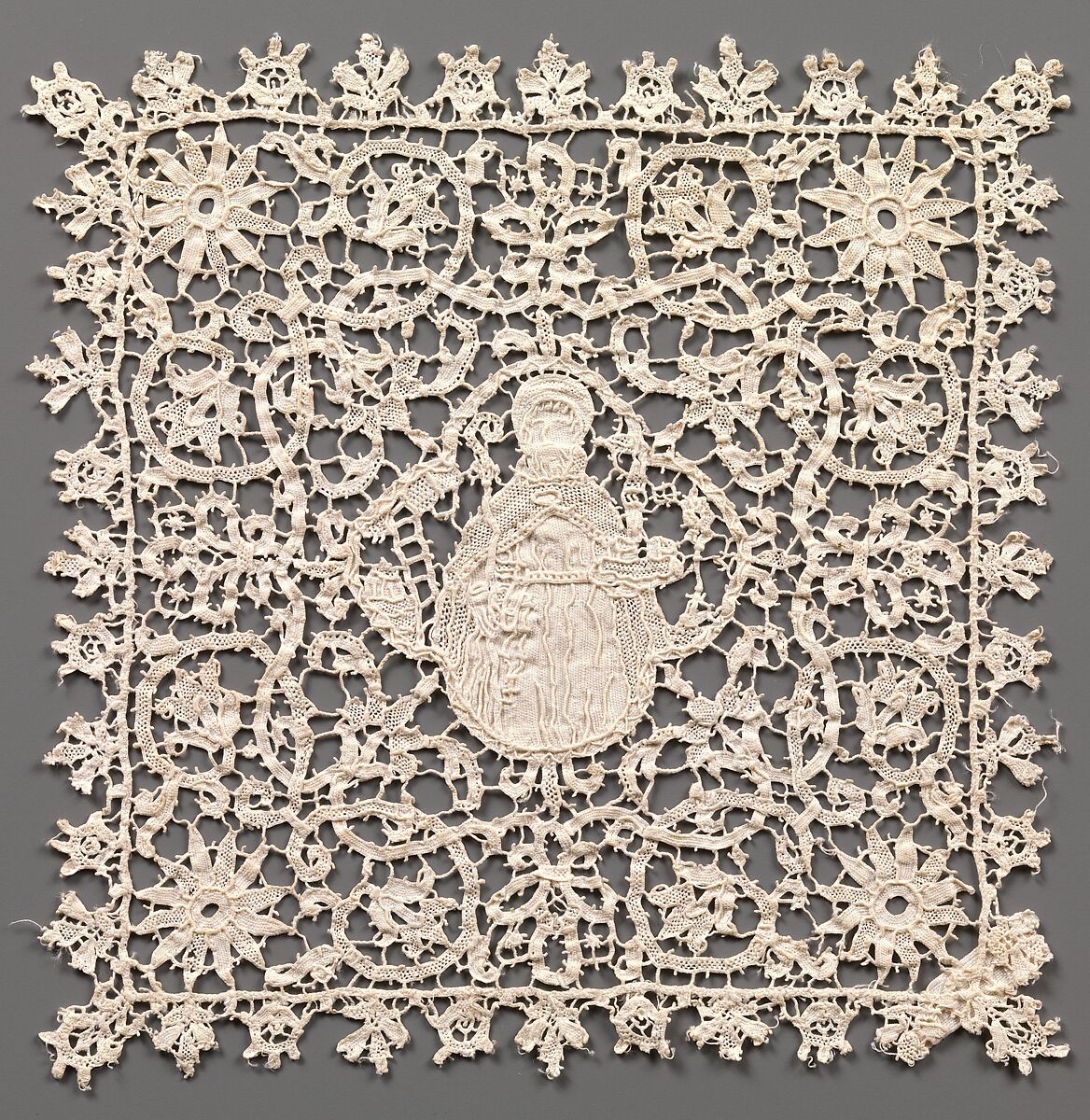 Unfortunately crochet historians aren't exactly sure when and where crochet originated. The word comes from croc, a Middle French word for a curved instrument or hook. Experts link it to nun's work or nun's lace used to trim vestments, make chalice veils or other whole cloth items. They also connect it to the Renaissance lace Punto in Aria meaning "needle in air". A fine lace worked with small hooked sewing needles.
Looking closely at pictures of extant Punto in Aria items I don't see the connection. But it might be noticed better in the item's deconstruction, which I don't get to do.
There are pattern books available for period lace today. Honorable Lady Marianna da Fiorenza recreated lace from historic published patterns. But sadly, the first known printed crochet pattern wasn't made until 1824. (Not even close to SCA period.)
And where was crochet found before 1600 AD?
Lis Paludan believes European crochet may have originated in Arabia spreading along the trade routes to Spain and on to other Mediterranean countries. If I were entering a competition I'd look for extant items along trade routes and in Spanish museums.
But with the SCA's broadened Mission Statement we can now consider Paludan's two other theories. She saw evidence of early crochet in South America and/or China. In South America apparently primitive tribes used it in puberty rite adornments. (I'd love to see what those looked like.) And early China already had crocheted dolls. Maybe like today's tiny Japanese Amigurumi.
My Creations
So far I've only made small, flat, rectangular items. Things like, dishcloths for my daughter, pet mats for the Nebraska Humane Society, and a colorful scarf and table mats for a friend.
I don't plan to enter any competition or put it on recreated attire. I'm just happy today's crochet has even a fringe period connection so I'm not totally breaking SCA "rules". It's my attempt at another SCA period pastime pursuit that Jehanne might have done.
Crochet Benefits
I like crochet because it's quicker and easier than knitting. You only have to learn a few crochet basics plus a few stitches such as the slip stitch, crochet chain, single crochet and double crochet. Even beginners like me can make beautiful, functional items. I started by making swatches and granny squares to learn the basic techniques and stitches. It didn't take long and I moved on to dishcloths and pet mats.
I like crocheting uncomplicated things because they're perfect for relaxing while watching TV. And pet mats are appreciated charity donations that don't have to be perfect. Critters don't care if I drop or add stitches. They don't care if the colors don't mix well. The just enjoy their padded comfort.
Insights
I learned a few things from this experience.
Fiber crafters think differently than scribes. I love and even crave yarn. When I find a knockout yarn I then search hours for the perfect way to use it. The same is true for costumers. I don't know a scribe that lusts after inks or paints the way fiber crafters do yarn or fabric.
There's also lots of beginner friendly crochet patterns. Scribes don't have beginner projects unless you consider painting preprints or charters beginner level. There's so many simple crochet designs that finding the best one for your special yarn is an enjoyable rabbit hole to enter. (This may be less a time-suck the more experience I gain.)
Amazingly crochet also has health benefits. According to pain specialist Monica Baird, crochet's repetitive motion changes brain chemistry. It reduces stress hormones and raises the feel-good serotonin and dopamine. I'm guessing that's why easy patterns are meditative and relaxing.
I'm no crochet master and don't play one anywhere. I do know learning it is fun and interesting. An easy, life enriching, healthful craft. After getting started with crochet the big question to answer is "Now, what do I want to make next?
Crochet history sources: