Perplexing Pictures In Manuscripts 6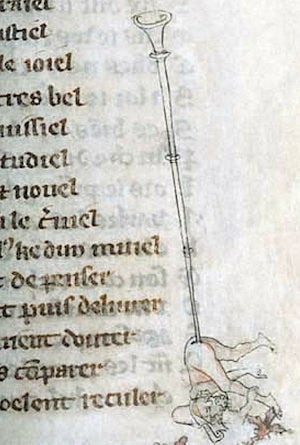 J
acques de Longuyon's poem
"Vows of the Peacock."
1350s
Tooting butt trumpets, really? 
It's amazing what you can find exploring Medieval illuminated manuscripts on the Internet. And this isn't the only one.
Medieval scribes worked long hours in cold rooms bent over their work. To entertain themselves b
ored and cranky Medieval scribes used the page's margins to kvetch, adding ribald doodles that often commented on the text they were yet again copying. 
If this perplexing marginalia entertains you I recommend Michael Camille's enlightening book
 Images on the Edge: The Margins of Medieval Art. It teaches about their comments on Medieval life and gives you a rare look at their way of thinking.
Surfing the Internet for weird marginalia is fun. But Camille's very readable book takes that beyond exploring to learning about the perplexing border pictures and the people that doodled them.
Prior Related Post: