5+ Medieval History Blogs – Internet Round-up 2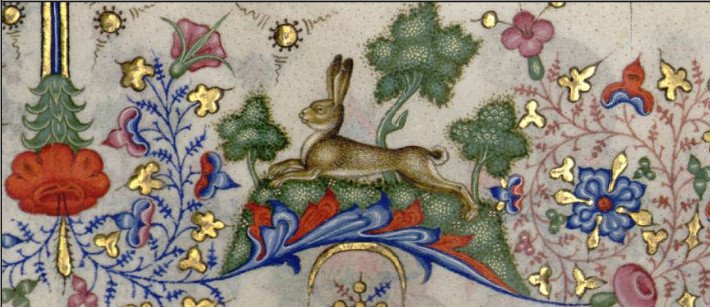 As I work on SCA projects I come across things I think would interest you. They don't always come with pretty pictures like this Milanese rabbit, but I thought as a group you might find them interesting. So I put five together in one post with a similar topic.
These blogs are by a variety of professional historians. Although Karen Larsdatter is also in the SCA.
I know you'll find them as interesting as I did. And be
careful. You might lose track of time or get "hooked" by one or two.
~~~~~~~~~~~~~~~~~~~~~~
History Of The Ancient World gives you "news, articles, and videos about antiquity, from prehistoric times to the Roman Empire." It is edited by Peter Konieczny and Sandra Alvarez who you may also know for the website Medievalists.net – a premier resource for those interested in the Middle Ages.

Material Culture Blog where M. Karen Larsdatter "blogs about stuff from the Middle Ages and Renaissance, including clothing, armor, and artwork. News about museum exhibits and new books." Don't miss her showpiece links page where you can click on anything and be amazed.
Medieval Histories is another
Larsdatter bonanza you won't want to skip. This one is her traditional blog.
The Public Medievalist is Dr. Paul B. Sturtevant's unique blog about how the Middle Ages are currently featured in popular culture, museums and in education. You even find posts about SCA culture.

Medieval Hungary is a blog written by Zsombor Jékely in English "about medieval art history, with a special focus on Hungary". Jekely started posting in August of 2010 and continues today, but not as often. Even so, it's an interesting blog from a distant part of Europe.


~~~~~~~~~~~~~~~~~~~~~~

So that's the second Internet collection I saved for you. If this is as popular as the first I may do this often. A regular feature you might say.
Related Prior Post: